One of the main interesting facts about being a parent is that there is great variation in how we raise our children!!
Although each parent is different, there are many resemblances between parenting styles. Parenting style can affect everything from how your child feels about himself to how much he weighs. It's essential to ensure your parenting style is supporting mental and physical development of your child, because the way you discipline your child and how you interact with him will influence him in rest of his life. Your parenting style points to a combination of strategies that is use to raise your children.
Learn about four styles of parenting and where you can fit yourself on the spectrum.
Parenting styles are classified mainly in to 4 styles

Each Parenting style takes a specific approach in raising children, and can be identified by different characteristics.
1. Authoritarian Parenting : (High demand – Low response)
Can you relate yourself to any of these statements?
One way communication: from parent to child (You don't take your child's feelings into consideration)
Usually rules and the need of rules are not explained
Insist excessive discipline and executes punishments to control children's behavior
High expectations with limited flexibility
If you can relate to above mentioned statements, you might be an authoritarian parent. Authoritarian parents believe children should follow their rules without exception.
When the child questions/asks for an explanation for the rule, Authoritarian parents just says, "Because I said so". Their focus is only on obedience and they are not interested in any negotiation.
Authoritarian parent make the rules and impose it on children without little regard or consideration to child's opinion.
They may use punishments rather than discipline. So instead of teaching a child how to make choices, they make children feel sorry for their mistakes.
Children of authoritarian parents:
Tend to be unhappy
Less independent
Feel insecure
Possess low self-esteem
Exhibits behavioral problems
Poor academic performance
Have inferior social skills
Becomes Liar
 2. Authoritative Parenting : (High demand – High response)
Can you relate yourself to any of these statements?
You are affectionate, caring, supportive and encourage independence
You take great effort in creating and maintaining a positive relationship with your child
You enforce rules, but take your child's feelings into consideration
You explain the reasons behind your rules
If you can relate to above mentioned statements, you may be an authoritative parent.
Authoritative parents have rules but they also consider their children's opinions into account. They thinks in their child's perspective, as well as makes it clear that the adults are ultimately in charge.
Authoritative parents use positive discipline strategies to enforce good behavior, like appraisal and reward techniques. This style of parenting is also called as Democratic Parenting.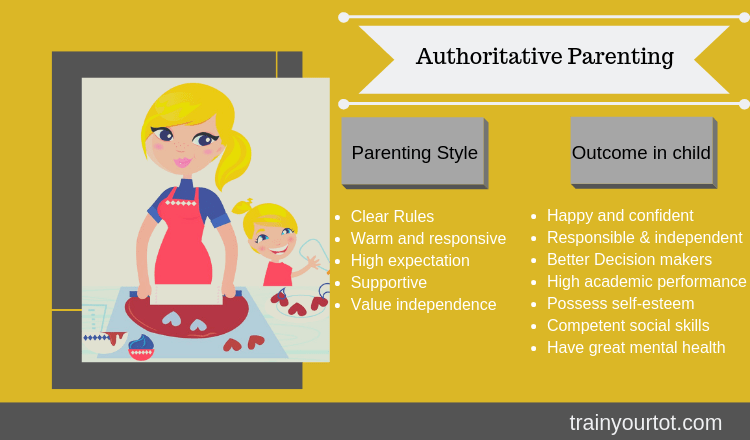 Children of authoritative parents are:
Happy and confident
More responsible and independent
Better Decision makers
Achieve academic success
Possess self-esteem and comfortable in expressing their opinions
Competent social skills while interacting with peers
Have great mental health
Exhibit less violence
3. Permissive Parenting : (Low demand – High response)
Can you relate yourself to any of these statements?
You rarely set rules or boundaries and are reluctant to enforce them
You don't like to say 'NO' to your child or disappoint him
You believe your child will learn the best with little interference from you
If you can relate to above mentioned statements, you may be a permissive parent.
Permissive parents are lenient that they only step in or interfere when there's a serious problem.
Their attitude will be  "kids will be kids", so they easily forgive and take it easy most time. They mostly give the privileges back, if their child begs or they even allow their child to get out of time-out zone early if he promises to be good.
Permissive parents usually act as a friend than a parent.They encourage their children to reveal their problems and talk to them openly, but usually they won't discourage their bad behavior or poor choices.
Children of permissive parents:
Struggles academically
Cannot appreciate authority and follow rules
Low level of self-esteem
Worse self-control
Possess egocentric character
Higher risk of health issues like obesity from junk foods
Encounter problems in relationships and social interactions
4. Uninvolved Parenting­: (Low demand – Low response)
Can you relate yourself to any of these statements?
You don't give attention to your children's need or happiness
You are rarely aware of where your child is or who he is with
You don't attend school events and parent-teacher meetings
You barely spend time with your child
You can relate to above mentioned statements, you may be an uninvolved parent. Uninvolved parents are least aware or bothered of what their children are doing. They are uninvolved in their children's life and indifferent to their needs. There tend to have only few rules. Children may not experience much parental attention, guidance, care and nurturing.
Uninvolved parents expect their children to raise themselves. They don't devote much time to meet even children's basic needs.
However this neglecting nature of uninvolved parents may not be intentional. They might tend to have mental issues themselves such as perinatal depression, Mental or physical abuse or neglect when they were kids.
Beside these, it may be also due to lack of knowledge about the child's mental and physical development. Or else, overwhelming work load, financial issues or family problems can also be a reason.
Children of uninvolved parents:
Struggle with very low self – esteem
Hard to achieve developmental milestones
Unhappy and depressed
More impulsive
Very poor academic performance
Cannot self-regulate emotion and exhibits behavioral problems
Posses delinquency
Addiction problems – drugs, liquor, smoking
Have more mental issues like suicidal behavior
Sometimes we as parents may not get fit into just one category, so don't  get depressed if there are times where you tend to be permissive and other times you're more authoritative.
However, it's considered that authoritative parenting is the best parenting style.
But even if you relate yourself with other parenting styles more, there are steps you can take to become a more authoritative parent.
All of us want to be the best parent for our children and we can attain it by maintaining a positive relationship with our children along with some discipline strategies in a healthy manner. And over time, our children will reap the benefits of authoritative parenting style.
authoritarianparenting, authoritativeparenting, parentingstyleeffectsonchild, parentingstyles, permissiveparenting, uninvolvedparenting